AUTHOR INTERVIEW WITH CRISTA MCHUGH
Gold's Review of Tangled Web
was posted and she has nothing but good things to say about the book. And now we have the author of Tangled Web, Crista McHugh for an Exclusive Interview! We talked about her most rewarding experience being a writer, her inspiration writing Tangled Web and more! So without further ado here's Crista answering some of our questions :)
Hi Crista, thank you for taking time on doing this Interview with us!
Thank you for having me!
Let's start off with your journey to publication, was it hard? Was it easy? Tell us about it.
I'm a firm believer in keeping my options open. I started off writing a fantasy novel, but when I found it wasn't something that was a hot market item, I explored other options, epubbed some shorter paranormal romances, and learned from each experience on how to write a better story. I wouldn't call it easy or hard, but a journey of continual growth
Tell us your most rewarding experience since being published.
Hearing from readers, without a doubt. Knowing that one of my stories resonated with a reader enough that they felt the need to tell me about it makes all the hours of work worth it.
What inspired you to want to become a writer?
I'm a Southerner, so I've always been surrounded by tall tales. I started coming up with my own stories when I was a young teen, and I finally reached the point where I couldn't ignore the characters in my mind.
Let's talk about your book Tangled Web, what is your inspiration on writing it?
I was flipping the channel between Stargate and a documentary on the emperors of Rome and thought it would be a cool twist to substitute Ancient Rome for Ancient Egypt.
Do you love listening to music while writing? Can you give us 2 or 3 songs that reminds you about your book/s and why?
I usually need complete silence when I'm writing. If I play music, I usually end up singing along rather than writing. But certain songs have been known to trigger scenes or characters in my mind. "Don't Turn Around" by Ace of Base (yes, I'm that old) inspired a scene in the sequel to Tangled Web, and "Little Talks" by Of Monsters and Men always makes me think about Arden, Loku, and Dev in my Soulbearer Trilogy.
Do you have a dream cast for your book/s?
Not always. I mean, there are times when I look at an actor or actress and say, "Maybe they'd be a good so-and-so,", but just like cover models, they never seen to match the characters in my head.
What was your favorite book when you were a child/teen?
The Complete Works of William Shakespeare (because I'm such a nerd for the Bard), closely followed by Huckleberry Finn
What's one piece of advice you would give aspiring authors?
Read everything you can get your hands on. Then, start to analyze what you liked or didn't like. Once you have an idea of what makes or breaks a story, then you have a better idea of how to apply that to the plot bunny you've been dying to write.
Thank you Crista for this wonderful interview! Please invite our readers to read Tangled Web.
If you're looking for something that's a bit Stargate meets Ancient Rome (or perhaps Game of Thrones meets 50 Shades of Grey), then I invite you to check out Tangled Web.

Thank you again for having me!
Tangled Web
by Crista McHugh
Series: Dezian Empire #1
Published: October 9th 2012
Publisher: Entangled Select
Genre: Fantasy / Erotica
Synopsis:
The deadliest assassin in the empire just got too close to her target…

Azurha, a former slave turned deadliest assassin in the empire, has just been offered the ultimate challenge—seduce, then murder the new Emperor. But Titus is not the tyrant his forefathers were, and his radical ideas might be the glimmer of hope the empire needs.

Titus Sergius Flavus has yet to master the powerful magic of his ancestors—magic he must wield if he's to protect his people—but his father's death has left him no choice. Rule the Deizian Empire and attempt to right his ancestors' wrongs, or watch her fall to his greedy kin.

More than just Titus' ideas hold Azurha captive. Night after night, he awakens desires she thought lost, and uncovers the magic of her hidden lineage. As her deadline approaches, Azurha is forced to make an impossible decision—complete her job and kill the man she loves, or fail and forfeit both their lives.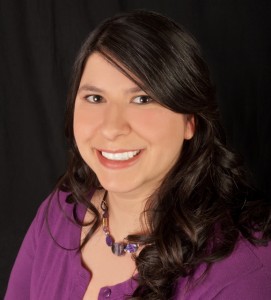 Growing up in small town Alabama, I relied on story-telling as a natural way for me to pass the time and keep my two younger sisters entertained.

I currently live in the Audi-filled suburbs of Seattle with my husband and daughter, maintaining my alter ego of mild-mannered physician by day while I continue to pursue writing on nights and weekends.
MAKE SURE TO CHECK OUT
TANGLED WEB AND OTHER
BOOKS BY CRISTA
AVAILABLE ON KINDLE AND PAPERBACK